Masterclass Diary - April 2018
Testimonials:
I have just had the exceptional good fortune to spend most of the past week at Siding Spring in the company of Christian Sasse and three congenial fellow-students on the inaugural Astrophotography Masterclass. Wow! The experience simply could not have been any better. The Observatory staff were so welcoming, the Lodge and the whole settling are spectacular and comfortable, and we were blessed with four straight nights of almost entirely clear skies. Above all, Christian is both a remarkable teacher, and also excellent company. My head is still buzzing with all that we learned. I have come away inspired and enabled to take a deep dive into astrophotography: something that I have long-intended to do, but was hitherto held back by the daunting learning curve. I first joined iTelescope back in 2012, since when I have mostly allowed my monthly credits to accumulate. Now I will be able to make good use of the credit in the bank and I shall certainly be upgrading my subscription. You have such an impressive operation and I look forward to further developments in the coming years. I wish you and iTelescope every success -regards with gratitude from 38,000ft above Sri Lanka (hats off to the mortal remains of Arthur C Clarke below) - Max Whitby PhD, Director, The Red Green & Blue Company Ltd, UK
I wanted to thank you, Georgie and Christian for you efforts in bringing together this masterclass. I cannot convey to you the depth of my gratitude at being able to experience the camaraderie and clear skies at Siding Springs. Christians patience, good humor and attention to detail was very much appreciated and made learning from him a pleasure. His easy going and friendly manner opened many doors into the private world of astronomical research. We were given complete access to the astronomers and facilities as Siding Springs, much to my delight. We were able to discuss with the researchers, at length, and in their own control rooms, the details of their research projects. Even during breakfast or dinner (which occurred at almost any time of the night or day) we had many, thought provoking discussions with the astronomers. We gasped and ood and aahed at the clear skies and Christians ability to capture them on camera. We then were shown how to achieve amazing wide field nightscapes with our own equipment. 4 grown men, excited like children unwrapping Christmas presents. I was able to gain the confidence, with my own modest zoom lenses, to push for more technically challenging pictures and I've attached 2 that I have been able to quickly process (as our days and nights were very full of tutorials and picture taking). Once I process more images I'll send these through with the technical details. A common thread amongst the 4 participants was our inability to move beyond the programming of the itelecope telescopes; "I got an image but what do I do with it now". Christians ability to assemble and process astronomical ccd images is extraordinary. He patiently explained all facets of the image acquisition, processing and final touches in Photoshop. When he explained the methods used by Josep Drudis (we dubbed it the Drudis palette), I sat in awe. Here we were, being shown the techniques used by a multi APOD winning astrophotographer! The imaging time on the itelecope network is worth the price of admission, alone, to this course. We were then able to take these narrowband fits images, perform data rejection, stacking, deconvolution, colour creation and final sharpening and touch up in photoshop. I only arrived back home last night (after driving back via Dubbo; (about 12 hours drive from Melbourne, in total, to Siding Springs), but totally worth it) and so have not completed my processing but I'll send through the images as soon as I can, hopefully in the next few days. I am excited at the possibilities that Christian and itelescope have opened up for me. My sincerest and heartfelt thanks. - Mladen Dugec (Melbourne)

 

I am writing to compliment Christian, yourself and all those involved in making the inaugural Masterclass not only happen but for making it an outstanding success. My apologies for writing this testimonial so late, but I was probably the last among the group to arrive home, and after having been busy and called into work so soon upon arrival, I finally have the time to properly compose a review. This was for me the experience of a lifetime ! The Observatory staff went out of their way to make us feel at home throughout our stay. The accommodations and facilities were beyond expectation, the rooms modern, clean and very comfortable. Compliments to the kitchen staff for preparing delicious and nutritious meals. The Observatory grounds proved to be the perfect setting for celestial and nightscape astrophotography. We were very lucky to not only have clear night skies throughout the week but ample space and spectacular foreground setting to compose our shots and time-lapse sequences. The SSO staff went above and beyond to show us the various telescopes and instruments, and to demonstrate and explain to us in detail their functions. The evening we were given a tour of the 4m AAT control room while astronomers were actively engaged in research was simply awesome ... that being one of the highlights I shall never forget. Dr. Christian Sasse is an excellent teacher and wonderful person. His knowledge, expertise, professionalism, ability to engage and inspire, as well as his warm personality and humour was very much appreciated. I came to this workshop with some background in time-lapse astrophotography and with less experience in deep space imaging and using iTelescope, which I first joined about a year ago. The insight and knowledge I have gained from Christian is immeasurable, and the tools provided give me the ability to expand and ultimately excel far beyond what I thought I was capable of achieving. iTelescope is a wonderful facility and operation for remote astro-imaging, and to actually see it in person was such a treat ! I am not only going to become more actively involved using iTelescope, but am going to spread the word and present to my colleagues at the Royal Astronomical Society of Canada - Toronto Centre, my experience at SSO, iTelescope and the workshop. The fact that this workshop group was limited in number is a complete bonus. I have been on previous workshops that involved too many people and lacked camaraderie, substance and focus. I was blessed to be in the company of three other amazing students, and we all shared a common passion, excitement and thirst for knowledge. The conference room proved to be the perfect setting to learn from Christian and share our work. This was money very well spent and absolutely worth traveling the long distance to attend. I highly recommend anyone who is interested in learning (more) about nightscape and deep space astrophotography, ccd image processing and astronomy to attend future workshops held by Dr. Christian Sasse. I look forward to editing and sharing my dslr images and time-lapse sequences, followed by deep space images taken using various telescopes at iTelescope with the help of excellent tutorials, tools and material provided by Christian. - Randy Hoffmann, Toronto, Ontario, Canada
Thank you to all for submitting your images!
Day 1
By 2pm all four participants arrive at Siding Spring NSW- Mladen and Varna from Melbourne, Max from England and Randy from Canada. We are then given a safety briefing by site manager Amanda, and then jump right into the first adventure – a spontaneous visit to the 4m dome telescope – Australia's biggest jewel for looking far into the universe. We are able to watch meticulous preparations by astromomers for the upcoming night
At 4pm we head for the conference room which has generous space for the small group. Christian goes through essential settings for the DSLR cameras and shows some of his best practices to achieve good results. Dinner is ready in the fridge for everyone and the dining room provides space to relax and exchange ideas.
Everyone is excited to head out for the first night under pristine Southern Skies. There are ample opportunities around the lodge to image the Milky Way in its full glory and then head back to the conference room to change cameras or lenses, preview first results and to make adjustments.
After a good rest we meet at 1pm for lunch (or was this breakfast?) – We head for the iTelescope observatory and take a detailed look. The roof opens just before sunset and we get a good view from outside
A few minutes before sunset the gigantic roof opens at iTelescope
Back to the conference room where everyone is excited to show their first images from the previous night. Lots of excitement to see images with the clarity of the night sky and the beauty of the Southern Milky Way.
Christian then explains the basics of iTelescope – an overview of the telescopes and an easy way to find targets and do planning. We write a script for an LRGB image series for the beautiful Southern Pinwheel M83 and the obscure looking galaxy Centaurus A.
At night we head out again for further DSLR images, including beautiful time lapses and panoramas. Mladen brought along an astro-tracker which allows for usage of longer lenses to compensate for the earth's rotation.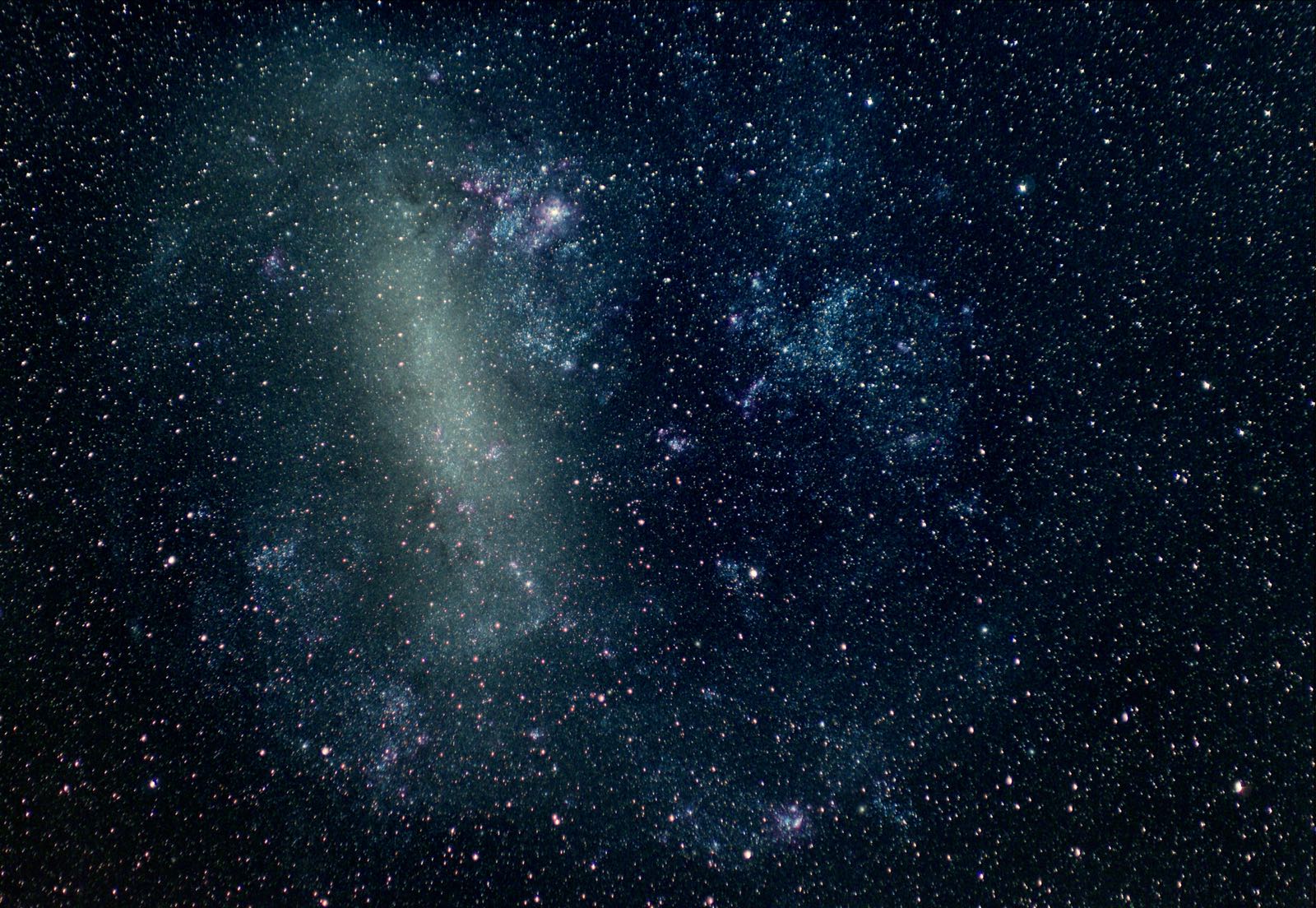 After a good night's rest, we head out for a tour of Siding Spring with Amanda. We visit the big observatories and learn about the current astronomy research of various groups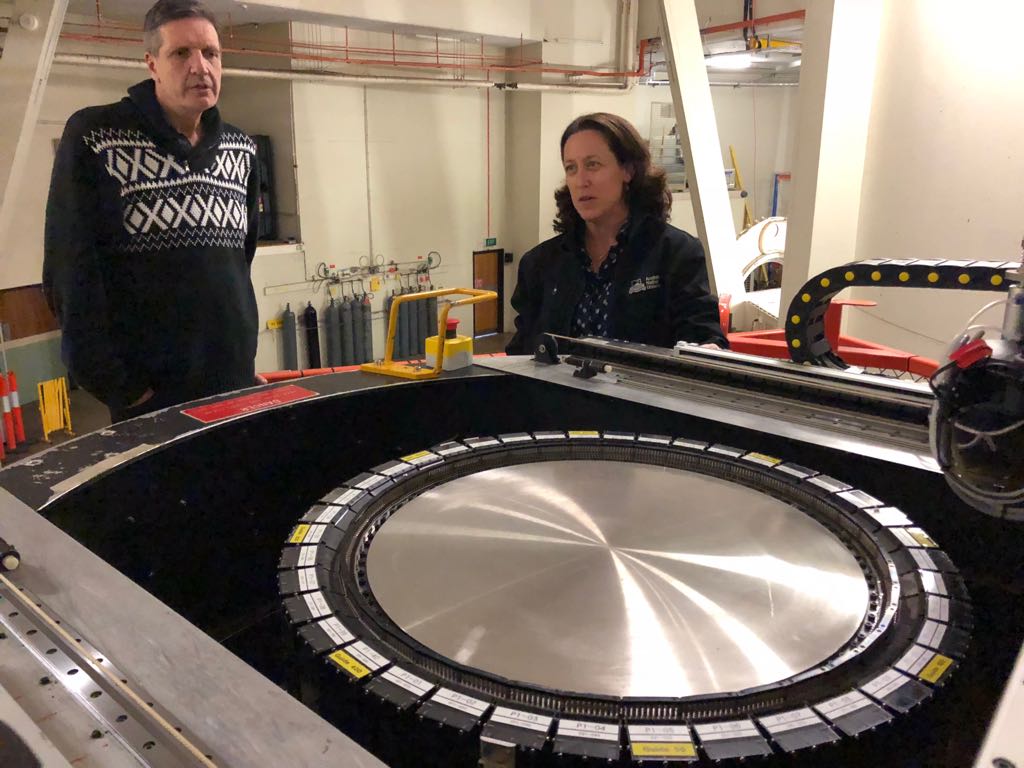 We then head back to the conference room where Christian explains LRGB workflows and art of achieving superb images.This gives everyone the opportunity to test the workflow on Centaurus A taken with T30 on the previous night.
DAY 4
Time to enjoy the beautiful sunrise! Then back to bed, breakfast in the afternoon with an advanced tutorial on narrowband imaging. Time to program T12 and take a series of OIII, SII and Ha images and head out to Warrumbungle National Park to spend the night among Kangeroes and the marvellous night sky. And - once again - the very kind astronomers invited us to the 4m dome to witness real-time research on measuring red-shift of hundreds of galaxies - mindblowing!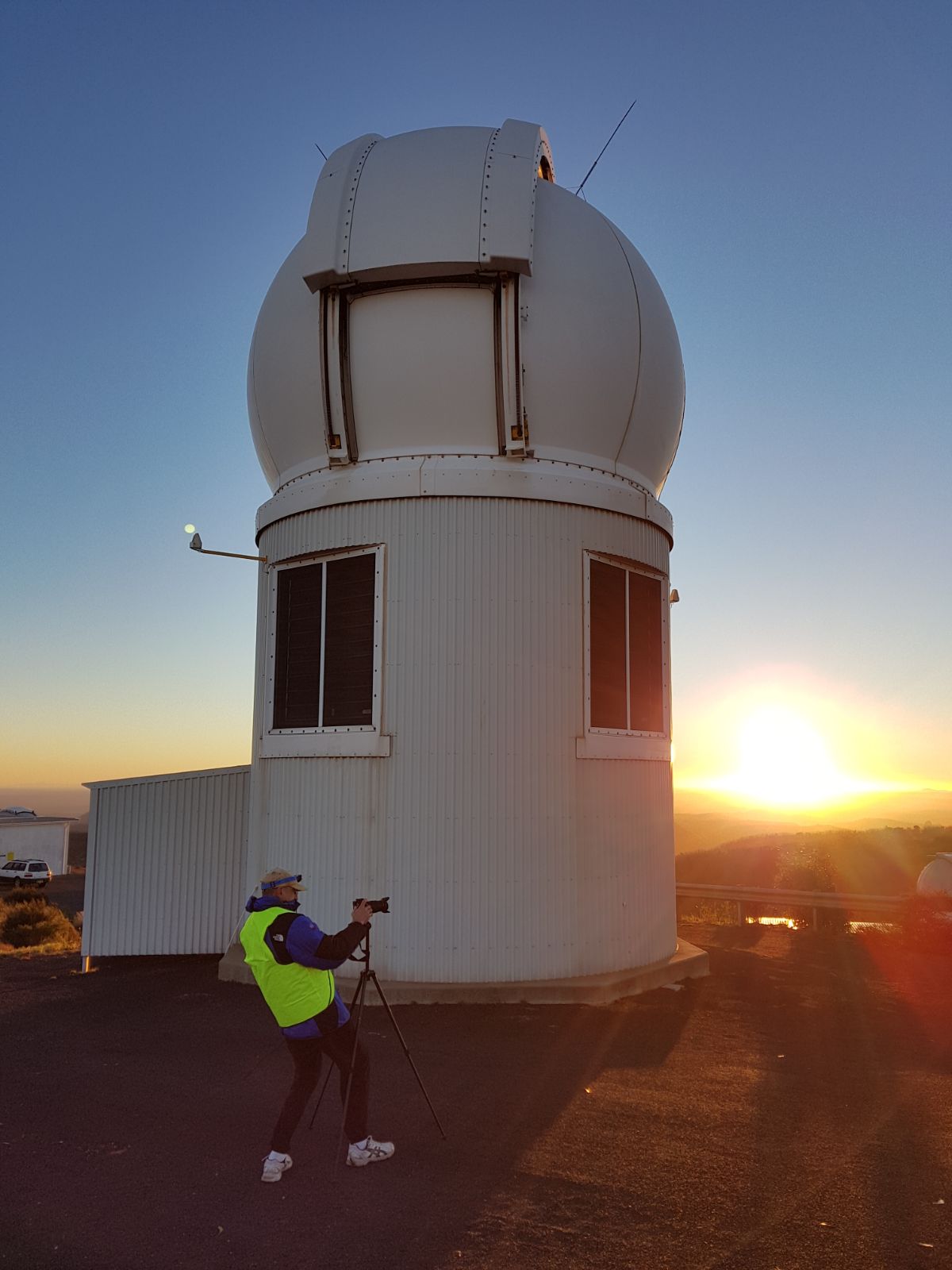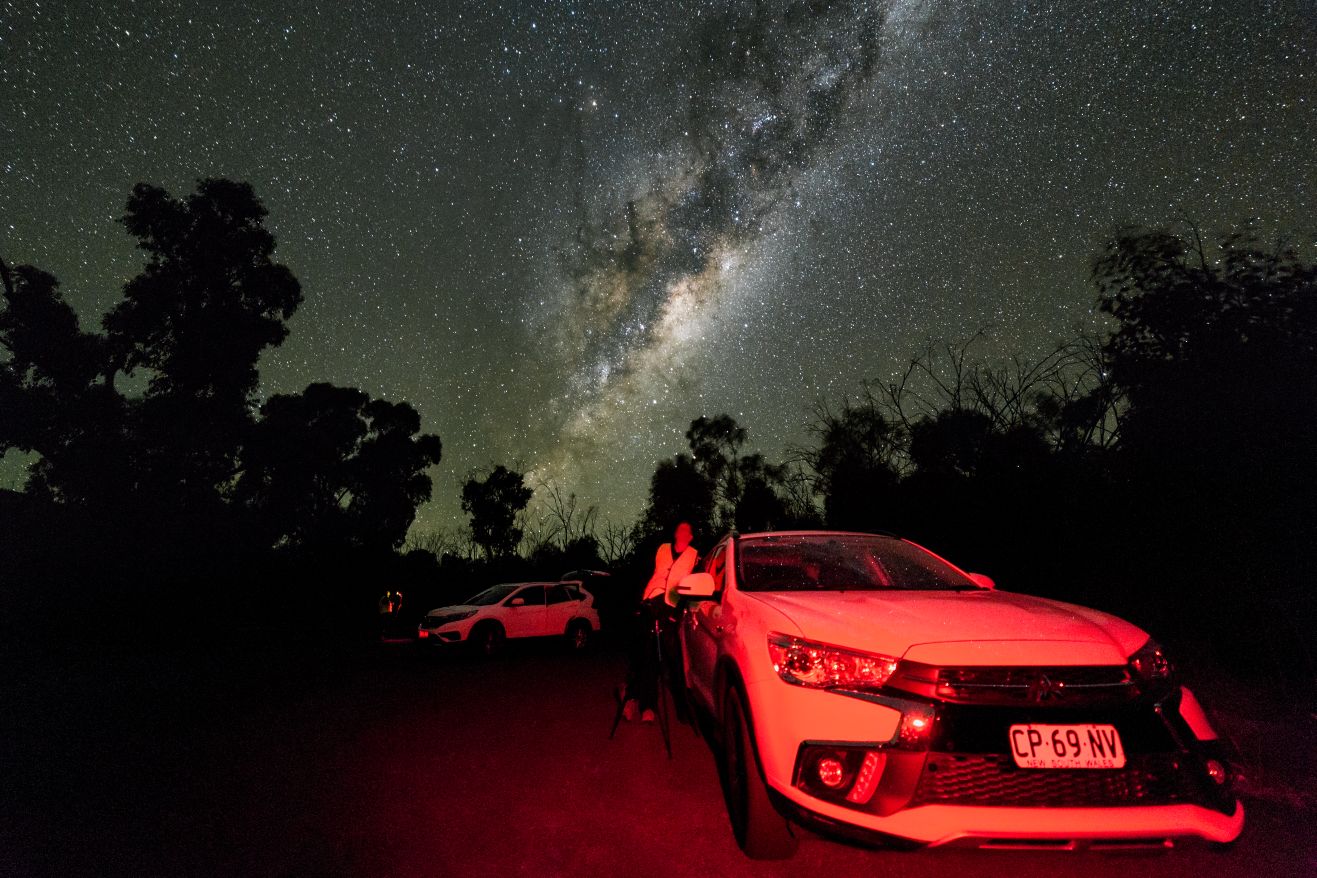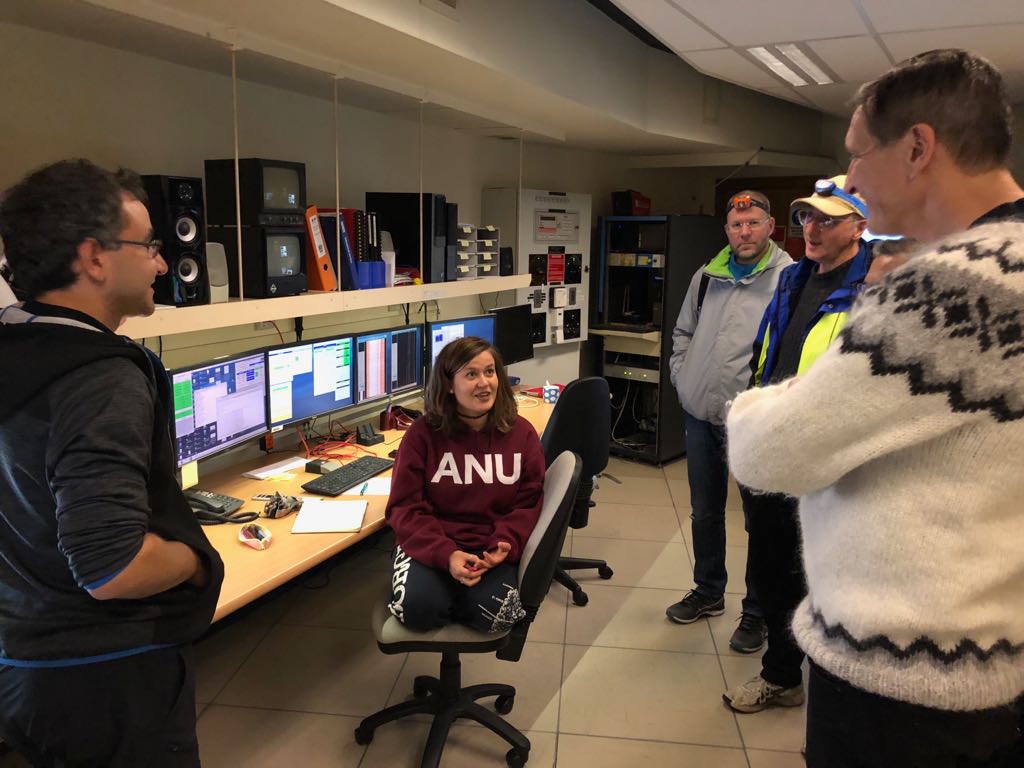 by Mladen Dugec
Pentax DA* 50-135mm at 135mm f2.8
Full spectrum modified Pentax K-01, iso 3200
60 x 30 sec, 20 darks at 30sec, iso3200, 20 bias at 1/4000 sec, iso3200
Stacked in Deepsky Stacker using maximum entropy, 41 frames chosen
Saved at 32 bit rational TIFF
Photoshop Levels to get grey point
Photoshop Saturation to increase colour
Flattened and Converted to 16bit TIFF to save as jpeg
DAY 5 / 6
Final day / night to deepen the understanding on narrowband imaging, DSLR panoramas and time-lapses. We process Eta Carina in OIII / SII / Ha together taken by T12 and everyone has an opportunity to discuss their images and enjoy one last night under the night sky.
Ay noon we say goodbye and depart on our ways - iTelescope would like to express their gratitude to all participants for their passion and interest and we wish everyone the best success - clear skies and happy imaging!